Back in 2016, there occurred a major virus outbreak, Zika virus, starting in Brazil and rapidly spreading to other South American countries and beyond. The Zika virus infected all ages, but it was particularly devastating in pregnant women, where newborn babies were at risk of developing a congenital Zika syndrome, that primarily affected their brain development.
In response University of Liverpool researchers, under the UoL based Health Protection Research Unit in Emerging and Infectious Zoonotic Diseases, secured funding to work with local health professionals to better understand the disease, prevent its spread and help families of children affected by the virus.
Dr Griffiths secured an individual MRC grant to support diagnostic capabilities in South American laboratories (working with Public Health England). He was also a co-investigator on a large collaborative EU Grant (ZikaPLAN). Dr Raquel Medialdea Carrera, one of Dr Griffiths' PhD students at that time, went across to Rio and Recife, to undertake research in Zika diagnostics.
As part of our research, we become aware that Brazilian Health system was challenged and families of children with congenital Zika infection were struggling to get health and community support.
The Zika Engagement and Support Team (ZEST) 2016-ongoing: ZEST was created in response to the challenges we witnessed among Brazilian families with children suffering Zika virus infection.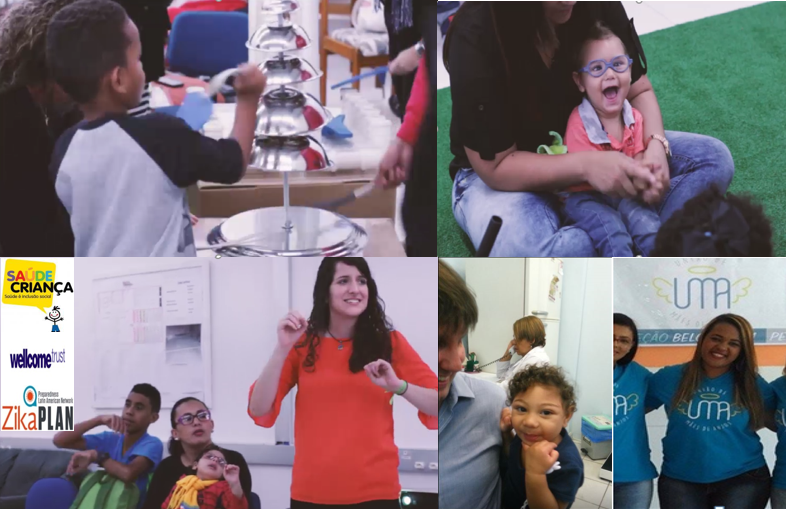 Still captures of videos taken by Ohanna Filmes of the workshops in Saude Crianca , UMA and FIOCRUZ Zika clinic.
Dr Griffiths secured a Wellcome Trust Community Engagement grant. He created and led the ZEST team. The team's mission was to deliver practical education and support to families with children affected by Zika virus in Rio de Janiero and Recife. Led on the ground by local coordinators Flavia Levy, Teresa Pazo and guided by Raquel and later Suzie Lant (another Brain Infection Group PhD student), team members were drawn from a range of settings in Brazil, government hospitals, research organisations (Fundacao Oswaldo Cruz [FioCruz]), non-government organisations (Saude Crianca, the Union of Mothers of Angels (UMA), and Movemento Zika) and private patrons. Over the next 28 months ZEST organised and ran > 50 community workshops and events. The workshops and events educated and helped families to support their children using a wide variety of approaches, including physiotherapy, speech and language therapy, seating, feeding, reflux and sleep management for the children, providing music therapy to stimulate child engagement and interaction, producing low-cost toys and low-cost specialised seating to stimulate development and promote good posture.
We also provided drop-in sessions from commercial enterprises to train carers how to develop their own business (such as hairdressing or creating jewellery), and legal support to help apply for and obtain relevant government support.
Over the next few years our events reached >1000 families. Our events were reported in local and national Brazilian newspapers, as well as, the Guardian (UK).
Importantly, ZEST established communication, collaboration and trust to enable joint workshops run by the Brazil government and third-sector instituitions for the benefit of Zika families.
ZEST was initially seed-funded though the Wellcome Trust Educational Grant. However, we were able to extend the workshops through local (Brazilian) support/funding. Pleasingly, following, our step-back in funding support in 2020, help continues to be provided to Zika families by Saude Crianca, through collaboration with the government maternity and paediatric clinics.
Some videos (collated by Ohanna Filmes) of the workshops undertaken by the ZEST team and Saude Crianca are available to be seen on the later webpages.
Katie Beets an LSTM MSc student went across to Rio to better understand the challenges faced by the affected families. As part of her research project she undertook focus group discussions, in-part, to help identify what the family attendees valued or felt could be improved about the ZEST sessions. Pleasingly, feedback from attendees, ZEST and Saude Crinca staff was overwhelming positive. Katie describes her work in the first video.